The Fraunhofer MPEG Layer-3 Audio Decoder is one that is needed when wanting to listen to MP3 files. The codec is normally missing when you get one of 2 messages : Tag 55 which means the codec is missing or Tag 85 which means the decoder is missing. Finally this is a very popular codec as it is one of the most used audio codecs on the internet.
Fraunhofer MPEG Layer-3 Audio Decoder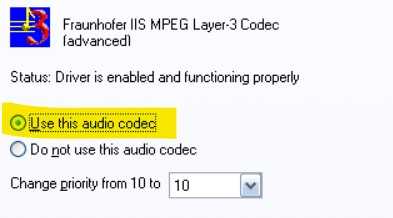 The sound quality from the Fraunhofer Decoder codec is very good and is used extensively by people in the know. This is one of the most downloaded codecs on the internet next to the K-Lite Codec Pack which is also very popular. Any of these errors tells you that you need to install the Fraunhofer MPEG codec to listen to your music.
MPEG Layer-3 audio codec installation is complete
You need a newer version of Advpack.dll
MPEG Layer-3
FOR THOSE OF YOU HAVING A TAG 85 ISSUE!!
Go to Start Menu, Run, type in "regsvr32.exe l3codeca.acm" then hit enter. This should give you a success message, click ok. Next go Start, Run, type "regsvr32.exe l3codecx.ax" and hit enter. Finally this will now allow audio to be played. For newbies don't add the (") ;) LIFESAVER!!


(Don't mind the Google Chrome warning)

Incoming search terms: