This is the GMP4 Codec for Windows. Video camera recordings have become a part of everyday life. The problem at times comes with playing the video again. People tend to look for a "GMP4" codec and think that GOM would play it however this is not so. The DAT file or AVI file uses a very specific codec.
GMP4 Codec for Windows
The "GMP4" codec you are looking for is the one that normally comes with your camera software. If not then you can download the codec below. If this does not work then check the GMP4 codec here. Note that this is a GeoVision Advanced MPEG-4 Video Codec for your computer. This uses the GeoVision MPEG-4 Video Codec. Of you see the following warning then simply ignore the warning from Google Chrome.

The GeoVision MPEG-4 Video Codec is a video compression codec developed by GeoVision, a company that specializes in digital video surveillance and security systems. The MPEG-4 codec is used to compress digital video streams, reducing their size while maintaining their quality, making it easier to store, transmit, and playback video files. You can also see the GeoVision CCTV MPEG4 Codec as well as the converting the file format under convert GMP4 to AVI.
The GeoVision MPEG-4 Video Codec is specifically designed for use with GeoVision's line of digital video surveillance products. The codec also supports advanced features like motion detection, video analytics, and remote access, making it a powerful tool for security professionals. The cannot play .avi/GMP4 files also explains the same problem. This usually causes problem with GOM Player so many call it the GOM Player Codec.
How to install the Codec
Download the ZIP file below and extract the content.
Now Double Click on the directory named "v8400Codec"
Then Right-Click on the file called "GEOX.inf"
Then Click on "Install"
Windows will then install the Codec for you.
Restart your computer for the Codec to work
You should then be able to play GMP4 files on  GOM Player.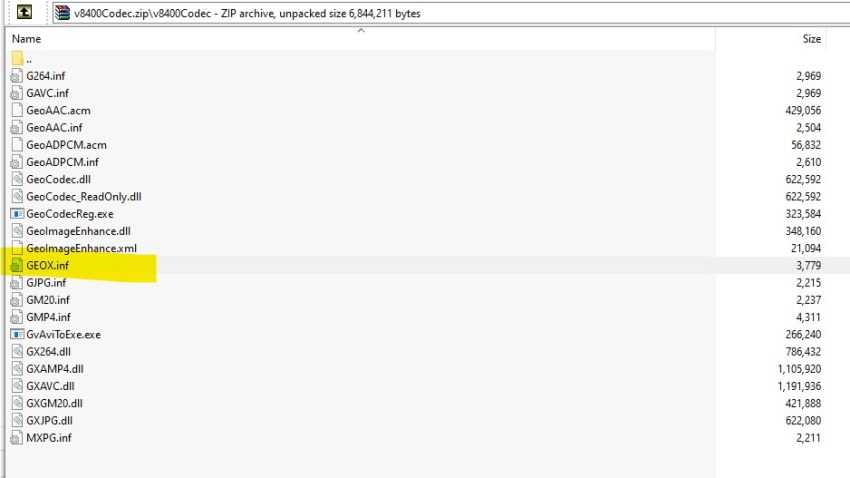 Incoming search terms: