Download the CIF Single Chip Camera driver here. This camera is very popular as it uses the older SC-120 chipset. If you have a computer which says that it cannot find the driver. This is unable to identify the driver and places it in the "unknown devices' so common today then this is the camera driver you are looking for. It would normally only show CIF Chip or CIF Single Chip. This is a USB camera driver and was originally made by Orite1.
CIF Single Chip Camera
You will note that the CIF Single Chip Camera is a type of webcam or PC camera that uses a single imaging chip. It uses this single chip to capture both video and still images. These were very popular 20 years ago and still today. The CIF stands for Common Intermediate Format. This CIF camera has a resolution standard of 352 x 288 pixels. This type of cameras were the first to be used for video conferencing in the early 2000's.
The cameras typically came with a USB interface cand cable. The single-chip design made it a cost-effective as well as a very compact solution for video capture. Its simplicity eliminated the need for multiple imaging components in the camera. This reduced the costs and everyone could afford one. The resolution was very low and the image quality was very grainy.
The CIF camera was used in many earlier models under different names. The following cameras will work with this driver.
A4Tech PK-35N
Creative Labs WebCam Instant
Intel Pro PC Camera
Logitech QuickCam Express
Micro Innovations CP-1L
Philips PCVC740K ToUcam Pro
Trust WB-1200p Mini Webcam
The driver is listed below and runs on Windows XP,Me,2000 and 98. This was the operating system at that time. This is an INF install so you should be able to run this even on Windows 10. See below how this is done. Don't bother with the warning the download gives you with Chrome. See below how to install the driver.
CIF Single Chip Camera Driver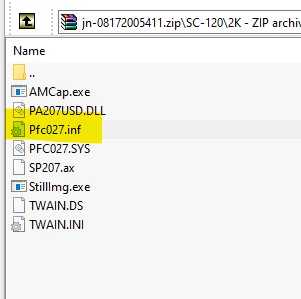 Download the file below
Extract the content
You will see a directory called "SC-120"
Double Click on the Directory
Click on the operating system you have
If you have something like Windows 7 or Windows 10 then click on the "2K" directory
Right Click on the "INF" file called "Pfc027.inf"
The menu pops up and then click on "Install"
Windows will then install the driver for you.
This driver works on all these old cameras. The Logitech QuickCam Express was the most popular CIF Single Chip Camera on the market. The Creative Labs WebCam Instant was also up there as being very popular. There are this thousands of these cameras on the used market. See also the GMP4 Codec for Windows for converting your video files.
.
.
.
.
.

Incoming search terms: