This is the RadLight MPC DirectShow Filter. Note that this files has not been updated since 2005 yet is still very popular to give you good music quality with a much smaller audio file. The MPC format which it creates has been based on the MPEG-1 Layer-2 and on the MP 2 algorithms which makes it very useful. Most codec packs still add this into their combinations as it is still widely used.
RadLight MPC DirectShow Filter
The version 1.0.0.4 was last updated in 2005 as stated above. See also the RadLight Filter Manager which gives you even better control over your filters.
So you will see the RadLight Filter is used to decode the MPC (Musepack) audio files. Now the Musepack is a lossy audio compression format. It foes offer high quality audio with low bitrates. This makes the codec very popular. This was developed to work with the RadLight media player, as well as other media players that support DirectShow. You will be able to play MPC audio files in your media player (any one)  without the need for additional software or additional codecs.
How to make this work
Download the file below;
Extract the content of the ZIP file;
Ignore the Google Chrome warning;
Click on the file called "RadLightMPC_1.0.0.4.exe";
The codec will then install.
This is how to install the RadLight MPC DirectShow Filter on your computer. You can also see the FFDShow MPEG4 Video Decoder on here as well as the RadLight Filter Manager. As stated above the codec uses the MP 2 algorithms. This MP2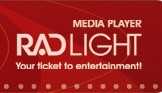 (MPEG-1 Audio Layer II) algorithm is a lossy audio compression algorithm. This was developed as part of the MPEG-1 standard. It does this by means of overlapping analysis of the audio frames.The transform coding uses the Discrete Cosine Transform (DCT) which changes the time and frequency domain. This makes the algo very efficient. Then quantization is used to round off the audio bits. This is then compressed with entropy coding. This is then reversed with decoding which recreates the audio file again. Much like the Media Player Classic MPC.